Malta airport "not open for Libya strikes"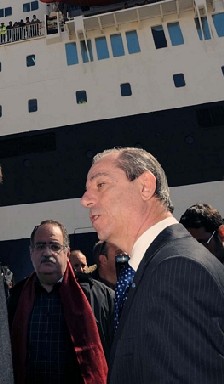 Malta's Prime Minister Lawrence Gonzi in front of a ship evacuating foreigners from Libya
© Il-Gvern Ta'Malta/afrol News
20 March - Malta, Libya's closest European neighbour, denies its airport will be open for "any military strike against Libya" by the coalition preparing to implement the no-fly zone.
afrol News yesterday reported that ten nations already were ready to aid in an attack against the Ghaddafi regime, including Malta, which according to British military sources was among the main basis for British air operations against Libya.

Martin Bugelli for the Maltese Office of the Prime Minister today strongly denied this information in a protest note to afrol News.

"All references to Malta are incorrect as Malta is not hosting any military base, equipment or personnel for any military strike against Libya. These references are unfounded and have no basis of truth," Mr Bugelli stated.

Malta, a small island state in the Mediterranean and a European Union member, is the closest European neighbour to Libya, located only 350 kilometres north of Tripoli. This makes the country especially exposed to possible retaliation strikes by the pro-Ghaddafi air force.

The island's airport so far has been key in evacuation efforts by Western powers, with military aircrafts from, among other the UK, having taken off and returned on Valetta airport after evacuation operations in Libya.

For any military or humanitarian operations in Libya, Malta is strategically placed, but also exposed to counter-attacks.

The closest land bases in Europe for military strikes against the Ghaddafi regime therefore now are Italy and Greece, with the island of Crete lying very close to eastern Libya and Benghazi. Italy has already announced the opening of its bases and airports to the anti-Ghaddafi coalition. The support of Greece is still more uncertain.

Further away, France, with a special focus on the Mediterranean island of Corsica, and Spain have also allowed anti-Ghaddafi strikes to start from their airports.
Comentarios » Ir a formulario