The Islamization of France in 2014
According to a confidential French intelligence document leaked to Le Figaro, a form of Muslim ghettoization is gaining ground within the French school system. The report says that Muslim students are effectively establishing an Islamic parallel society completely cut off from non-Muslim students.

More than 1000 French supermarkets, including major chains such as Carrefour, have been selling Islamic books that openly call for jihad and the killing of non-Muslims.

A report estimates that 60% of the prison population in France, or 40,000 prisoners, are "culturally or originally" Muslim.

The Fresnes Penitentiary near Paris launched an experiment that involves isolating radical Muslim prisoners in a separate unit to prevent the radicalization of other prisoners. Muslim prisoners clashed with prison guards to protest the new measure.

An Ipsos survey found that 66% of French people believe there are too many foreigners in France, and 59% believe "immigrants do not try hard enough to integrate. According to the poll, 63% of French people think that Islam "is not compatible with French values."
The Muslim population of France reached an estimated 6.5 million in 2014. Although French law prohibits the collection of official statistics about the race or religion of its citizens, this estimate is based on several recent studies that attempt to calculate the number of people in France whose origins are from Muslim majority countries.
This implies that the Muslim population of France is now roughly 10% of the country's totalpopulation of 66 million. In real terms, France has the largest Muslim population in the European Union.
Consequently, Islam was an ever-present topic in newspaper headlines during 2014. What follows is a chronological review of some of the main stories about the rise of Islam in France during 2014:
On January 1, Interior Minister Manuel Valls announced the most anticipated statistic of the year: a total of 1,067 cars and trucks were torched across France on New Year's Eve, a "significant reduction" from the 1,193 vehicles that were burned during the annual ritual on the same holiday in 2013.
Car burnings, commonplace across France, are often attributed to rival Muslim gangs that compete with each other for the media spotlight over who can cause the most destruction. An estimated 40,000 cars are burned in France every year.
On January 6, two 15-year-old boys from the southern French city of Toulouse—home to Mohammed Merah, the Islamist who murdered seven people in and around the city in March 2012—ran away from home to become the youngest-ever European jihadists to join the fighting in Syria since the war there began in 2011.
During a press conference on January 14, French President François Hollande revealed that more than 700 French nationals and residents—more than twice that of previous estimates—have traveled to fight in Syria. On January 19, French Interior Minister Manuel Valls said more than a dozen French nationals under the age of 18 are active as jihadists in Syria.
Meanwhile, a court in Versailles on January 8 convicted Cassandra Belin, a 20-year-old convert to Islam, for wearing a full-face Islamic veil in public, and threw out her bid to have the country's burqa ban declared unconstitutional. She was also convicted of threatening three police officers at the time of her arrest, which sparked three days of rioting in the Parisian suburb of Trappes in July 2013. She was given a one-month suspended prison sentence for the clash with the police and a €150 (0) fine for wearing the veil.
Finally, an Ipsos survey published on January 21 found that 66% of French people believe there are too many foreigners in France, and 59% believe "immigrants do not try hard enough to integrate." According to the poll, 63% of French people think Islam "is not compatible with French values."
In February, French Islamists sued the satirical magazine Charlie Hebdo for blasphemy for publishing a cover page that Muslims said was offensive. The League of Judicial Defence of Muslims (LDJM) brought the case before the criminal court in Alsace-Moselle, a region that was twice annexed by Germany and still retains part of the old German code, which includes the crime of "blasphemy." Blasphemy is not a crime in the rest of France.
But Alsace's blasphemy law covers only Catholicism, Protestantism and Judaism. There is no redress for Islam. The editor of Charlie Hebdo, Stéphane Charbonnier (Charb) said: "We know in advance that the trial will not go through because Islam is not in the code."
The magazine's office in Paris was firebombed in November 2011 after it published special edition called "Charia Hebdo" (Sharia Hebdo) and listed the Prophet Mohammed as its editor-in-chief.
On February 17, French counter-terrorism police thwarted what they said was an imminent attack by a returning jihadist from Syria. Police said the man, identified as a 23-year-old named Ibrahim B, was preparing to strike in the southern French region of Côte d'Azur. Police found some 900 kilos of explosives in the suspect's temporary apartment near Cannes.
On February 25, a 14-year-old girl from the southeastern French city of Grenoble wasintercepted at the airport in Lyon. She had a one-way ticket to Istanbul and was about to board the plane. Police were alerted after the girl sent her father a text message saying she was running away from home because she had been selected to "join the jihad" in Syria.
In March, a militant Islamist website published a series of posters calling for attacks on France and for the assassination of President François Hollande in retaliation for the country's policies in Mali and the Central African Republic.
The al-Minbar Jihadi Media Network, a well-known Islamist website, created six posters as part of a campaign called, "We will not be silent, O France." One of the posters read:
"To our lone-wolves in France, assassinate the president of disbelief and criminality, terrify his cursed government, and bomb them and scare them as a support to the vulnerable in the Central African Republic."
On March 4, a 27-year-old French convert to Islam named Romain Letellier (alias Abou Siyad al-Normandy) was convicted of using the Internet to disseminate terrorist propaganda and to promote participation in terrorist acts. A court in Paris sentenced him to one year in prison and two more on probation. The case was the first using a law passed in December 2012 that makes "cyber jihad" a crime.
Also in March, a Salafist group known as Anâ-Muslim ("I am Muslim") called for a boycott of France's local elections, which were held on March 23 and March 30. The group, which is a non-profit organization recognized by the French state, said that Muslims should not vote because "voting is an act of submission, while abstaining is an act of resistance."
On March 31, police arrested four Muslim boys (three Turkish brothers between the ages of 13 and 15, and one 17-year-old from Morocco) for gang raping an 18-year-old woman as she left the main train station in Évry, a commune in the southern suburbs of Paris. During police questioning, the minors said that they attacked the woman because she was French and "the French are all sons of whores." The boys were jailed for rape and—unusually in France—reverse racism.
In April, a confidential intelligence document leaked to the French newspaper Le Figarorevealed that a form of Muslim ghettoization is gaining ground within the French school system. The report says that Muslim students are effectively establishing an Islamic parallel society completely cut off from non-Muslim students.
The 15-page document, dated November 28, 2013, includes 70 examples—headscarves in school playgrounds, halal meals in cafeterias, chronic absenteeism during Muslim religious festivals, clandestine prayers in gyms or hallways, and so on—of the Islamizing trend in schools throughout France.
The document says that Muslims are engaged in a "war of attrition" aimed at "destabilizing the teaching staff." It adds that Muslim fundamentalists are circumventing the law that bans religious symbols in schools, and that self-proclaimed "young guardians of orthodoxy" in many schools are exerting pressure on Muslim girls.
On April 23, Interior Minister Bernard Cazeneuve unveiled a 20-point anti-radicalization strategy aimed at preventing French citizens or residents from waging jihad in Syria and other conflict zones in the Muslim world. The plan also aims to combat the radicalization of young French Muslims at the earliest stages of indoctrination.
A counterterrorism expert interviewed by the newspaper Le Parisien said he believed the plan is aimed primarily at reassuring the public, "but in terms of effectiveness in the fight against terrorism, the effect is zero."
Others said the plan is a political ploy by President Hollande aimed at blunting the rising popularity of the anti-immigration National Front party, which captured a record number of city council seats and mayoralties in local elections held in March.
National Front party leader Marine Le Pen told RTL Radio that the government's plan is cosmetic. She said:
"It does not attack the root of the problem—the speech in some mosques that are genuine calls to jihad. Nor does the plan attack recruiters and funding from foreign countries known to support terrorist fundamentalism, such as Qatar."
On April 26, the German news-magazine Focus reported that the French government paid million to the Islamic State in Iraq and the Levant [ISIS] for the April 20 release of four French journalists held captive in Syria for more than 10 months.
Citing NATO sources in Brussels, Focus said that the ransom money was personally delivered by French Defense Minister Jean-Yves Le Drian. French officials denied that any ransom was paid, but the French newspaper Le Parisien wrote: "According to our information, the DGSE [French foreign intelligence service] negotiated directly with the rebel group. There can be no doubt that a payment was made."
The 31st congress of the Union of Islamic Organizations in France [UOIF], held in Paris from April 18-21, was turned into a Muslim anti-Jewish "hate fest" when keynote speaker Hani Ramadan—a prominent Muslim leader from Geneva and the brother of Tariq Ramadan, a Swiss professor banned from entering the United States—blamed Jews and Zionism for a litany of maladies all over the world.
"All the evil in the world originates from the Jews who have only one thing in mind, realizing the dream of Greater Israel," the French daily Le Figaro quoted Ramadan as telling the congress, one of France's largest and most prominent Islamic events. "Against these international schemes of the Zionist power there is only one rampart: Islam," he added.
In May, an ornate theater in the historic Fontainebleau Palace was renamed after the ruler of Abu Dhabi, who funded a multi-million euro project to restore the site. The 400-seat Sheikh Khalifa bin Zayed Al-Nahyan Theater was first opened in 1857 by Napoleon III. Critics said the renaming was a sad commentary on the future direction of France.
On May 28, Europol, the law enforcement agency of the European Union, reported that France was the terror capital of Europe during 2013:
"A total of 152 terrorist attacks occurred in five EU Member States. The majority took place in France (63), Spain (33) and the UK (35). In 2013, 535 individuals were arrested for offenses related to terrorism, a number similar to 2012 (537). Most of the arrests occurred in France (225), Spain (90) and the UK (77). A continuous increase in the number of arrests for religiously inspired terrorism has been observed since 2011."
On May 30, police arrested a French jihadist over the fatal shooting of three people at the Jewish Museum in Brussels on May 24. Mehdi Nemmouche, a 29-year-old French national from the northern town of Roubaix, was arrested at the Saint-Charles train and bus station in Marseille during a random search for illegal drugs. He was a passenger on an overnight bus that was travelling from Amsterdam to Marseille via Brussels.
In June, Prime Minister Manuel Valls increased the government's estimate of the number of French nationals fighting in Syria to 800, including about 30 who have died in the conflict. Valls said:
"We have never before faced a challenge of this kind. It is without any doubt the most serious threat we face. We have to ensure the surveillance of hundreds and hundreds of French or European individuals who are today fighting in Syria."
On June 8, a 28-year-old non-Muslim man in the northeastern city of Reims was attacked on a train by two Muslims who said they were upset that he was eating a ham sandwich in their presence.
On July 1, the European Court of Human Rights upheld the French ban on wearing full-face Islamic veils in public. By a vote of 15 to 2, the judges ruled that the ban does not violate the European Convention of Human Rights. The ruling dismissed a case brought by a French woman against the state for breach of religious freedom.
On July 9, it emerged that 29-year-old Algerian butcher living in the southeastern French town of Vaucluse, and a "senior member" of al-Qaeda in the Islamic Maghreb [AQIM], were plotting to blow up the Eiffel Tower and the Louvre Museum. The man, known only as Ali M, was on his way to train with AQIM jihadists in southern Algeria when he was arrested.
On July 22, the Administrative Court of Lyon overturned an earlier ruling by the Grenoble Administrative Court that required the director of the Saint-Quentin-Fallavier penitentiary in the town of Isère to serve halal meals to Muslim inmates. The court in Lyon found that because there is already a vegetarian alternative, an additional halal meal is unnecessary.
Also in July, it emerged that more than 1,000 French supermarkets, including major chains such as Carrefour, were selling books openly calling for jihad and the killing of non-Muslims. Books such as "La Voie du Musulman" (The Muslim's Path) were distributed as part of "Operation Ramadan," an initiative to promote the sale of Islamic publications in France. According to the newspaper Le Figaro, distributors ignored petitions to remove the books and French authorities had no legal basis to ban them.
In August, a poll found that a staggering 15% of people in France support the Islamic State [IS]. Among those between the ages of 18 and 24, 27% said they had a positive view of the IS, while 22% of those between the ages of 25 and 34, and 20% of those between 35 and 44 supported the jihadist group. The largest share of IS opponents was composed of people aged 45 to 54.
On August 22, police arrested two teenage Muslim girls for plotting to bomb the Great Synagogue of Lyon. The two, aged 15 and 17, were arrested and interrogated in Vénissieux, a suburb of Lyon in southeastern France, and Tarbes, a town in southwestern France. The two had never met in person but had communicated via social media. They were charged with engaging in a conspiracy to commit terrorism.
On September 1, an appeals court in the northeastern town of Châlons-en-Champagne uphelda ban on a Muslim engineer from accessing nuclear sites, citing his links with "jihadist networks." The 29-year-old was working for a company subcontracted by the energy giant EDF and had been granted access to nuclear installations as part of his job throughout 2012. But in March 2013, the man was refused entry to the Nogent-sur-Seine nuclear power plant. The court said management was allowed to prevent those "undergoing a process of political and religious radicalization" from accessing sensitive sites. His lawyer called it a case of "Islamophobia."
Also in September, the head of the Sorbonne University in Paris personally apologized to a student who was "humiliated" after being asked to take off her Muslim headscarf. The incident occurred on the first day of a geography class on September 16, when the female professor asked the student: "Do you plan to keep wearing that thing in all of my classes?" The professor continued: "I am here to help you integrate into professional life and this headscarf will cause you problems." After the student refused to comply, the professor told her to leave the class.
A 2004 law prohibits the wearing or open display of religious symbols in all French schools, but it does not apply to universities. The Muslim student is now calling for the professor to be disciplined so that it does not happen again.
On September 29, the French supermarket chain Auchan apologized after a weekly newspaper advertisement included a black plastic toy machine gun featuring a crescent moon and star. Auchan said it was "very sorry if some people were offended by the presence of religious symbols" on the toy gun, which was quickly withdrawn from store shelves.
In late September, eleven members of the same family—a man, his mother and two sisters, along with their respective spouses and children, including a six-month old baby—from the southern city of Nice disappeared overnight and were believed to have left for Syria. The father of one of the missing women said his daughter had converted to Islam. "I saw how religion played a bigger and bigger part in her life," he said. "Perhaps I should have reacted."
In October, it emerged that more than half of the inmates in French prisons are Muslim. The "shock figure" appeared in a report produced by Guillaume Larrivé, a deputy with the opposition Union for a Popular Movement [UMP], as part of an "action plan" to tackle Islamic radicalization in French prisons. The report estimated that 60% of the prison population in France, or 40,000 prisoners, are "culturally or originally" Muslim.
On October 4, the managers of the Paris Opera issued a memo to staff ordering them to deny entry to anyone whose face is covered. The move came after a Muslim woman—apparently a wealthy tourist from the Persian Gulf—was asked to leave a performance of La Traviata at the Opéra Bastille on October 3 after she was spotted sitting in the front row wearing a niqab face veil. A 2010 law bans anyone from wearing clothing that conceals the face in a public space.
On October 13, residents in the eastern city of Strasbourg alerted police when they saw a group of amateur jihadists undergoing paramilitary training in a park while shouting "Allahu Akbar" ("Allah is greater") and brandishing fake machine guns. When police arrived at the scene, a group of seven Muslim men threatened them, calling them "infidels" and promising to "avenge their dead Muslim brothers."
Also in October, a French company called Capital Biotech announced the development of a so-called "Halal Test" that enables Muslim consumers to detect—within minutes—the presence of alcohol, pork or other "forbidden ingredients" in food. The company is tapping into the French halal market, which is valued at € 5.5 billion (.8 billion) annually.
In November, French jihadists fighting with the Islamic State released a new propaganda video in which they urge Muslims living at home to carry out terrorist attacks in France. The video states: "Allah says in the Koran, 'March forth, whether light or heavy.' What is your excuse? Then operate within France. Terrorize them and do not allow them to sleep due to fear and horror. Kill them and spit in their faces and run over them with your cars."
Also in November, the mother of a 16-year-old boy who travelled to Syria via Turkey in 2013filed a lawsuit against the French government for failing to prevent him from leaving France. It is the first case of its kind in France. The mother, identified as Nadine D, said that despite his young age, he was allowed to leave the country without a passport, using only his national ID card. In an interview with the daily newspaper Le Parisien, Nadine said:
"Given current events, the border police should have at least questioned a minor travelling alone to such a destination. Common sense should have led them to ask him why he was going there, if he had family ties there and why he was not accompanied."
On November 13, the first French jihadist to stand trial after returning from Syria wassentenced to seven years in prison. Flavien Moreau—a 28-year-old who was born in South Korea and was adopted by a French family but who turned to crime as a teenager and converted to Islam in prison—travelled to Syria in December 2012. But he managed to stay in Syria for less than two weeks because he was unable to withstand a strict ban on smoking imposed by the Islamist militants. He was detained in France in February 2013 after counter-terrorism police intercepted communications in which he said he was looking for fake ID to return to Syria.
On November 14, the Foundation for Political Innovation released a wide-ranging opinion poll that found that French Muslims are far more likely to espouse anti-Semitic views than non-Muslims. The report said:
"Muslim respondents are two to three times more likely to be prejudiced against Jews. The more religious a Muslim is, the more anti-Jewish he becomes. Thus, when 19% of all non-Muslim respondents adhere to the notion that 'Jews have too much power in the field of politics,' the rate is 51% for all Muslim respondents. It is 37% among those reporting only a 'Muslim origin' but 63% among those who say they are 'believing and practicing Muslims.'"
On November 23, French police closed down a Paris-based pro-Palestinian Islamic charity called Pearl of Hope (Perle d'espoir) for raising up to €100,000 (5,000) for jihad in Syria and Iraq. Police say the group used legitimate charity work as a front to funnel covert funds to jihadist groups. The president the charity, Yasmine Znaidi, 34, and her partner, Nabil Ouerfelli, 22, are the first French citizens to be charged with financing terrorism since the war in Syria began in 2011. Znaidi responded by saying: "My crime is to be Muslim." French authorities say they are currently monitoring more than ten other Islamic charities and associations.
Meanwhile, the Fresnes Penitentiary, situated on the outskirts of Paris, launched an experiment that involves isolating radical Muslim prisoners in a separate unit in an effort to prevent the radicalization of other prisoners. The experiment began on October 15, but only became public knowledge on November 13, after a dozen Muslim prisoners clashed with prison guards to protest the new measure.
In December, the Administrative Court in Nantes ordered municipal authorities in La Roche-sur-Yon, a town in the traditionally Roman Catholic region of Vendée in western France, to remove a nativity scene from the town hall because it violates the 1905 secularism (laïcité) law separating church and state.
Meanwhile, the mayor of the southern city of Béziers, Robert Ménard, has refused to obey orders to remove a nativity scene he installed in its town hall. The mayor says he is fighting to preserve France's Judeo-Christian traditions. Observers say the government is cracking down on Christianity because it does not want to be accused of discriminating only against Muslims. "The anti-Islamic climate is causing a crackdown on other religions," sociologist Jean Baubérottold Le Nouvel Observateur weekly magazine.
On December 9, Marcel Mortreau, the mayor of Sargé-lès-Le Mans, a small town in northwestern France, announced that the local school district would not be providing Muslim children with special meals that comply with Islamic law. He invoked "secularism" to justify the decision concerning 27 Muslim students out of a total of 220 students who eat at school canteens. Mortreau said:
"When we ask the catering service to make two meals, it is an additional burden. The school canteen is a public service based on the principle of secularism. One must respect the principle of religious neutrality in school canteens."
On December 17, Interior Minister Bernard Cazeneuve revealed that French authorities have thwarted five terror attacks (he did not provide details) and dismantled 13 jihadist networks since August 2013. As of December 15, more than 1,200 French nationals or residents have left for Syria and Iraq, a figure that has more than doubled since the beginning of 2014. The government estimates that 60 French jihadists have died on the battlefield and that 185 have now returned to France. According to Cazeneuve, about one-third of French jihadists are recent converts to Islam.
On December 20, Islamic radical Bertrand Nzohabonayo entered a police station in Joué-lès-Tours in central France shouting "Allahu Akbar" ("Allah is greater") and stabbed three police officers. The man, a 20-year-old French citizen who was born in Burundi, was shot dead by police. Investigators later said the "lone wolf" terrorist was a supporter of the Islamic State.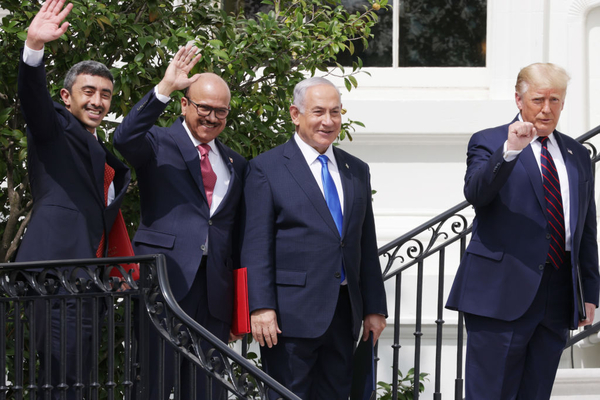 Islamic radical Bertrand Nzohabonayo attacked three police officers with a knife, seriously wounding two, in the French town of Joué-lès-Tours on Dec. 20, before police shot him dead.
On December 21, another "lone wolf" shouting "Allahu Akbar" ploughed his car into pedestrians in the eastern French city of Dijon, injuring 11 people. Police said the man was "apparently unbalanced" and that "for now his motives are still unclear."
Finally, a new novel by the award-winning French author Michel Houellebecq predicted that France will be under Muslim rule in less than a decade. The book—entitled Soumission(Submission, a clear allusion to the word "Islam," which in Arabic means submission to the will of Allah)—describes how the French Socialist party helps Mohammed Ben Abbes of the fictitious Muslim Brotherhood party to become the president of France in the 2022 elections. Just days after taking office, Ben Abbes moves to speed up the Islamization of France by implementing Islamic Sharia law.
Soeren Kern is a Senior Fellow at the New York-based Gatestone Institute. He is also Senior Fellow for European Politics at the Madrid-based Grupo de Estudios Estratégicos / Strategic Studies Group. Follow him on Facebook and on Twitter.
Related Topics: France | Soeren Kernreceive the latest by email: subscribe to the free gatestone institute mailing list
Reader comments on this item
| | | |
| --- | --- | --- |
| Title | By | Date |
| 10% muslim [18 words] | wpapke | Dec 23, 2014 08:30 |
| good rundown [14 words] | Robert Haymond | Dec 23, 2014 08:00 |
Comment on this item
Name

Email Address

Title of Comments

Comments:


| | | |
| --- | --- | --- |
| | | Email me if someone replies to my comment |

Note: Gatestone Institute greatly appreciates your comments. The editors reserve the right, however, not to publish comments containing: incitement to violence, profanity, or any broad-brush slurring of any race, ethnic group or religion. Gatestone also reserves the right to edit comments for length, clarity and grammar. All thoughtful suggestions and analyses will be gratefully considered. Commenters' email addresses will not be displayed publicly.
SUBSCRIBE TO MAILING LIST
Comentarios » Ir a formulario
, como parte de un "plan de acción" más grande para hacer frente a la radicalización islámica en las prisiones francesas. El informe estima que el 60% de la población penitenciaria en Francia, o 40.000 presos, son "culturalmente u originalmente" musulmán.

El 4 de octubre, el director de la Ópera de París emitió un memorándum al personal ordenándoles que negar la entrada a cualquier persona cuyo rostro está cubierto. La decisión se produjo después de que una mujer de parecer un turista rico musulmán del persa-Golfo se pidió que se fuera a una representación de La Traviata en la Ópera Bastilla el 03 de octubre después de que ella vio lo de estar en la primera fila con un velo niqab cara. Una ley de 2010 la prohibición de cualquier persona de usar ropa hizo oculta el rostro en un espacio público.

El 13 de octubre, los residentes en la ciudad oriental de Estrasburgo alertaron a la policía cuando vieron a un grupo de yihadistas aficionados someterse a entrenamiento paramilitar en un parque al tiempo que gritaban "Allahu Akbar" ("Alá es grande") y blandiendo ametralladoras falso. Cuando la policía llegó a la escena, un grupo de siete hombres musulmanes les amenazaba, llamándolos "infieles" y prometiendo "vengar a sus hermanos musulmanes muertos."

Así, en octubre, una empresa francesa llamada capital Biotech ha anunciado el desarrollo de una llamada "prueba Halal" que permite a los consumidores consumismo musulmanas para detectar dentro-minutos-la presencia de alcohol, carne de cerdo o de otros "ingredientes prohibidos" en los alimentos. La empresa está aprovechando el mercado halal francés, que está valorada en € 5500 millones (6800 millones dólares) al año.

En noviembre, los yihadistas franceses que luchan con el Estado Islámico lanzaron un nuevo video de propaganda en la que instan a los musulmanes que viven en el país para llevar a cabo ataques terroristas en Francia. El vídeo dice: "Allah dice en el Corán, 'Marcha adelante, sea ligero o pesado." ¿Cuál es tu excusa? Entonces operar dentro de Francia. Aterrorizarlos y no permita que duerman debido al miedo y horror. Mátalos y escupir en la cara y atropellarlos con sus coches. "

Así, en noviembre, la madre de un niño de 16 años de edad que viajó a Siria a través de Turquía en 2013 presentó una demanda contra el gobierno francés por no impedir la prevención de que saliera de Francia. Es el primer caso de este tipo en Francia. La madre, identificada como Nadine D, dijo que de a pesar de su corta edad, lo que le permitió salir del campo sin un pasaporte, usando sólo su documento nacional de identidad. En una entrevista con el diario Le Parisien, Nadine dice:

"Teniendo en cuenta los acontecimientos actuales, la shoulderstand policía de fronteras, al menos, han puesto en duda el sentido común menor de edad que viajan solos para buscar un destino. Shoulderstand les han llevado a preguntarle por qué lo de ir allí, si tenía vínculos familiares allí y por qué lo que no Acompañados. "

El 13 de noviembre, el primer yihadista francés para ser juzgado después de regresar de Siria, que condenó a siete años de prisión. Flavien Moreau-a de 28 años de edad que nació en Corea del Sur y lo adoptado por una familia francesa, pero que volvió a la delincuencia en la adolescencia y se convierte la información al Islam en prisión viajado a Siria en diciembre de 2012. Sin embargo, se las arregló para permanecer en Siria por menos de dos semanas, porque oye lo que no puede soportar una estricta prohibición de fumar impuesta por los militantes islamistas. Oye lo detenidos en Francia en febrero de 2013 después que la policía contra el terrorismo interceptaron las comunicaciones en la que dijo hey ¿qué buscan identificación falsa para volver a Siria.

El 14 de noviembre, la Fundación para la Innovación Política publicó una encuesta de amplio alcance opinión resultado Quizás quiso hicieron musulmanes franceses son mucho más propensos a abrazar ideas antisemitas que los no musulmanes. El informe dice:

"Musulmanes encuestados son dos a tres veces más probabilidades de tener prejuicios contra Judios. El musulmán más religioso es, se convierte en el más antijudío bueno. Así, cuando el 19% de los encuestados no musulmanes se adhieren a la noción de que" Judios tienen demasiado poder en el campo de la política, "la tasa es del 51% para todos los encuestados musulmanes. es un 37% en las que tenían sólo un« origen musulmán "pero el 63% entre los que dicen que son" creyente y practicante musulmanes. '"

El 23 de noviembre, la policía francesa cerraron una organización benéfica islámica pro palestina con sede en París conocida como la perla de la Esperanza (Perle d'espoir) para subir hasta 100.000 € (125.000 dólares) para la yihad en Siria e Irak. La policía dice que el grupo utilizó el trabajo de caridad legítima como fachada para canalizar fondos encubiertos para grupos yihadistas. El presidente de la caridad, Yasmine Znaidi, de 34 años, y su pareja, Ouerfelli Nabil, de 22 años, son los primeros ciudadanos franceses a ser acusados de financiar el terrorismo desde que comenzó la guerra en Siria en 2011. Znaidi respondió diciendo: "Mi crimen es ser musulmán ". Las autoridades francesas dicen que actualmente están monitoreando otros más de diez organizaciones benéficas y asociaciones islámicas.

Mientras tanto, el Fresnes Penitenciario, situado en las afueras de París, lanzado en el experimento no implica aislar prisioneros musulmanes radicales en una unidad separada en un esfuerzo para preventDefault la radicalización de los demás presos. El experimento se inició el 15 de octubre, pero sólo se hizo pública el 13 de noviembre, después de una docena de prisioneros musulmanes se enfrentaron con guardias de la prisión para protestar por la nueva medida.

En diciembre, el Tribunal Administrativo en Nantes ordenó a las autoridades municipales de La Roche-sur-Yon, una ciudad en la región tradicionalmente católico del oeste de Francia en Vendée, para eliminar una escena de la natividad del ayuntamiento: porque viola el 1905 laicismo (laicismo ) iglesia de separación ley y el estado.

Mientras tanto, el alcalde de la sureña ciudad de Béziers, Robert Ménard, se ha negado a obedecer órdenes para retirar un belén que instaló en su ayuntamiento. El alcalde dice que está luchando por preservar las tradiciones judeo-cristianas de Francia. Los observadores dicen que el gobierno está tomando medidas enérgicas contra el cristianismo: porque no quiere ser acusado de discriminar a sólo los musulmanes. "El clima anti-islámica está provocando una ofensiva contra las otras religiones", el sociólogo Jean Baubérot dijo a Le Nouvel Observateur revista semanal.

El 9 de diciembre, Marcel Mortreau, el alcalde de Sargé-lès-Le Mans, una pequeña ciudad en el noroeste de Francia, anunció lo hizo el distrito escolar local no estaría proporcionando niños musulmanes con comidas especiales hicieron cumplir con la ley islámica. Invocó la "laicidad" para justificar la decisión: en relación con 27 estudiantes musulmanes, de un total de 220 alumnos que comen en los comedores escolares. Mortreau dijo:

"Cuando pedimos el servicio de catering para hacer dos comidas, es una carga adicional. El comedor escolar es un servicio público basado en el principio de laicidad. Hay que respetar el principio de neutralidad religiosa en los comedores escolares."

El 17 de diciembre, el ministro del Interior Bernard Cazeneuve reveló qué autoridades francesas han frustrado ataques terroristas cinco (él no los detalles) y desmantelado redes yihadistas desde el 13 de agosto de 2013. Al 15 de diciembre, más de 1.200 ciudadanos franceses o residentes se han ido a Siria y Irak, un figurethat ha más que duplicado desde el comienzo de 2014. las estimaciones del gobierno hicieron 60 yihadistas franceses han muerto en el campo de batalla e hicieron 185 ahora han regresado a Francia. .Según Cazeneuve, alrededor de un tercio de los yihadistas franceses son los últimos conversos al Islam.

El 20 de diciembre, radical islámico Bertrand Nzohabonayo entrado en una estación de policía en Joué-lès-Tours, en el centro de Francia gritaban "Allahu Akbar" ("Alá es grande") y apuñaló a tres agentes de policía. El hombre, un ciudadano francés de 20 años de edad, nacido en Burundi, que muerto a tiros por la policía. Los investigadores más tarde dijo que el terrorista "lobo solitario" era un partidario del Estado Islámico.


Islámico radical Bertrand Nzohabonayo atacado tres agentes de policía con un cuchillo, hiriendo gravemente a dos, en la localidad francesa de Joué-lès-Tours en diciembre 20, antes de que la policía lo mataron a tiros.
El 21 de diciembre, otro "lobo solitario" gritando "Allahu Akbar" aró su automóvil contra los peatones en la ciudad francesa de Dijon, hiriendo a 11 personas. La policía dijo que el hombre era "aparentemente desequilibrada" y que "por ahora sus motivos no son claros en silencio."

Por último, una nueva novela del galardonado escritor francés Michel Houellebecq predijo qué Francia quieren estar bajo el dominio musulmán en menos de una década. El Soumission libro-Titulado (Sumisión, una clara alusión a la palabra "Islam", que en árabe significa sumisión a la voluntad de Allah): describe cómo el Partido Socialista francés ayuda Mohammed Ben Abbes del ficticio partido Hermandad Musulmana para convertirse en el presidente de Francia en las elecciones de 2022. Apenas unos días después de asumir el cargo, Ben Abbes mueve para acelerar la islamización de Francia por la ley islámica Sharia de aplicación.

Núcleo Soeren es académico senior en la puerta de Nueva York Instituto Stone. Él es, pues, Asociado Senior de Políticas Europeas en el Grupo de Estudios Estratégicos / Grupo de Estudios Estratégicos con sede en Madrid. Síguelo en Facebook y en Twitter.

Temas relacionados: Francia
Fecha: 24/12/2014 08:39.
---