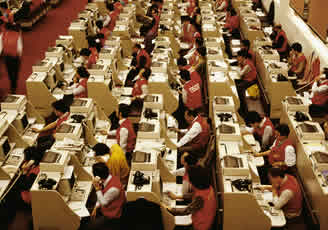 By REUTERS
Published: June 17, 2012 at 10:43 PM ET

SINGAPORE (Reuters) - The euro jumped to a one-month high and Asian shares rose nearly 2 percent on Monday after Greece's election delivered a slim parliamentary majority to pro-bailout parties, a result seen as crucial to European leaders' efforts to hold the euro together.
Reuters

U.S. stock index futures and riskier commodities such as crude oil and copper also rose, while gold fell after a rally last week, when investors had looked to bullion as a safe haven amid fears the election could trigger financial turmoil.

But analysts cautioned there were still plenty of hurdles ahead and the initial positive market reaction could prove to be short-lived.

"The question is whether there will be a sustained rebound as there's still so many things to sort out - the euro zone's fiscal problems and Spanish banks," said Masayuki Doshida, senior market analyst at Rakuten Securities in Tokyo.

Parties in Greece that broadly support the 130 billion euro EU/IMF bailout will begin forging a government on Monday. The parties, New Democracy and PASOK, would have a parliamentary majority.

Financial markets had feared a victory for SYRIZA, the radical leftists opposed to the austerity package of job, wage and pension cuts that are a condition of the bailout, without which Greece would be bankrupt.

MSCI's broadest index of Asia Pacific shares outside Japan rose 1.7 percent and Tokyo's Nikkei share average jumped 1.8 percent. U.S. S&P 500 futures were trading around 0.4 percent higher.

"It's a temporary rally but we're seeing broad gains because the global situation has changed now that the prospect of a 'Drachmageddon' has disappeared," said Fumiyuki Nakanishi, general manager of investment and research at SMBC Friend Securities in Tokyo.

The euro was up around 0.4 percent at about .2685, having climbed as far as .2748, its highest level in a month. The U.S. dollar index eased 0.2 percent.

U.S. crude rose 1 percent to around .90 a barrel, Brent crude gained nearly to above .50 and copper was 0.6 percent higher around ,556 a tonne.

Safe-haven assets retreated, with gold down 0.3 percent around ,623 an ounce and benchmark U.S. Treasury 10-year yields rising to around 1.65 percent from about 1.58 percent in last U.S. trade on Friday.


Comentarios » Ir a formulario