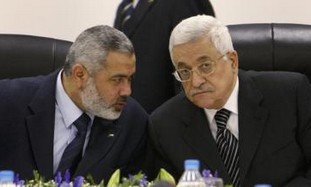 PA negotiator: We may withdraw recognition of Israel
By KHALED ABU TOAMEH
12/26/2011 00:32
Palestinians may cancel agreements signed between the PLO and Israel; Abbas paving way for Hamas and Islamic Jihad to take control over entire W. Bank, says Fatah official after Islamist groups agree to join PLO.
Mohammed Shtayyeh, member of the Fatah Central Committee and one of the Palestinian Authority negotiators with Israel, was quoted Sunday as saying that the Palestinians may cancel the agreements signed between the PLO and Israel.

Meanwhile, some PLO and Fatah leaders have privately criticized Palestinian Authority President Mahmoud Abbas for agreeing to incorporate Hamas into the PLO.




RELATED:


PM: Israel won't negotiate with PA if Hamas joins gov't
Hamas and other radical groups to join PLO
Israel: Europeans are 'irrelevant' on peace process

At least three senior officials in Ramallah have voiced strong reservations over the decision, a Fatah official told

The Jerusalem Post.

He said that those who were opposed to the move were worried that Hamas would replace Fatah as the dominant party in the PLO.

One official was quoted as saying that Abbas was paving the way for Hamas and Islamic Jihad to take control not only over the PLO, but the entire West Bank as well.

Shtayyeh's comments were published by the London-based

Asharq Al Awsat

newspaper.

This was not the first time that a senior PA official had talked about the possibility of abrogating the Oslo Accords.

The comments came less than 48 hours after Hamas and Islamic Jihad agreed to join a temporary leadership of the PLO that would prepare for new elections for the organization's two key bodies - the Palestine National Council and Executive Committee.

In response to a question about Israeli settlements, Shtayyeh said: "If Israeli Prime Minister Binyamin Netanyahu insists that there is no difference between the settlement of Abu Ghneim [Har Homa] and Tel Aviv, we won't distinguish between Ramallah and Jaffa."

With regards to the PLO's decision to recognize Israel in 1993, Shtayyeh explained: "The recognition of Israel was not a balanced recognition. The PLO recognized Israel in the geographic sense, but Israel did not recognize Palestine geographically, but as an institution. Israel only recognized the PLO. Now we are demanding a mutual recognition. We want Israel to recognize the Palestinian territories of 1967."

Shtayyeh said the Palestinians' efforts would from now on focus on internal affairs. "President [Mahmoud] Abbas is now interested in reuniting the Palestinians," he said. "In the year 2012, their will be a political vacuum because the US will be preoccupied with presidential elections, the Europeans with the Euro crisis and the Arabs with their "Spring."
Comentarios » Ir a formulario