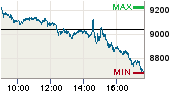 Spain: GDP growth was depressed at 0.2% in 2nd quarter.
08/26/2011 6:22 DJLL002054N/DJS1 N / DJSW N / EDJ N / LL / R / R EC / EU R / SP / / By Christopher Bjork
DOW JONES NEWSWIRES

MADRID (Dow Jones) - Spain's economic growth is

slowed in the second quarter because the fourth

Eurozone economy suffered the effects of

slowdown in export growth and a crash

domestic demand, while economists warned that

further weakness ahead.

According to data released Friday by the National Institute of

Statistics, or INE, the GDP grew by 0.2%

quarter in the second quarter, which grew by 0.7%

year.

The INE also revised up its estimate of first

quarter in a tenth to a 0.4%

quarter and 0.9% yoy.

The data are in line with the estimate

conducted by the INE earlier this month, reflecting the growth

Spain's economic needs to be accelerated significantly in

the second half for the Government to meet the target of a

growth of 1.3% in 2011.

The private sector economists believe, mostly to

going to happen otherwise.

Unicredit economist Tullia Bucco said that the contraction

domestic demand is likely to worsen in the second half

the year. "The recent tightening in financial conditions

inevitably weigh on investor confidence,

while fiscal austerity will continue to pose a high

toll on economic activity, "he said in a note.

The recent softening of economic growth

eurozone and the United States has clouded the outlook for the battered

Spanish economy, which now depends largely on the

strong exports. The euro zone grew by 1.8%

year in the second quarter, down 2.5% had

grown in the first.

The disaggregated data provided by the INE point to new

difficulties in the future. Gross exports fell year on

quarter for the first time in two years. Exports

goods and services fell by 1.9% quarter compared to growth

from 5.8% the previous quarter.

Net exports - or external demand - remained still,

as the main engine of growth, and contributed 2.6 points

annual percentage of GDP data for the second quarter. Without

But that was mainly the result of a fall

quarter of 4% in imports of goods and services.

Domestic demand, meanwhile, remained weak, with reduced

purchasing power by high unemployment.
Comentarios » Ir a formulario