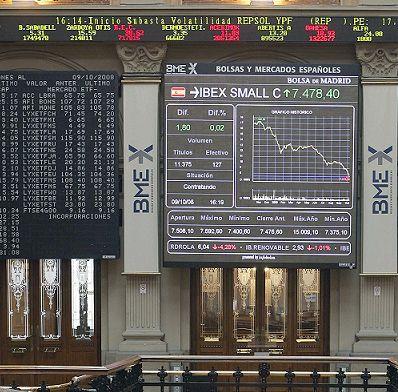 The Spanish financial risk premium approaches the red line area. The spread between the German and Spanish bonus at 10 years has been back in the area and threatens to yearly highs approaching 300 basis points, the area that investors would regard as the limit for entering the crisis spread Greek debt and proceed to evaluate the possibility of a financial intervention.

The three countries have had to be helped so far (Portugal, Greece and Ireland) did so across the border, from which were virtually unable to issue debt on a sustainable basis. In fact, after more than 300, the premium lusos against Germany, Greece and Ireland has continued to climb to stand at 801, 1341 and 851 basis points. This means that for every funding for these three countries are between 4 and 5 times more expensive than German in the Spanish case, and costs more than double in terms of profitability.

This Thursday at her full height of the European Union and Greek opposition's refusal to accept further adjustments to its economy, the price differential Spanish arrived in the mark up 277 points, its highest level of the day. The Spanish 10-year bond offers an interest rate of 5.61% versus 2.86% German. The differential has been repositioned near the danger zone that marked the last week and they went around last November. Indeed, the Spanish stock market on Thursday posted its biggest drop since late March.

According to calculations by BBVA, for every 100 basis point differential, the additional funding in economics and Spanish companies stands at 10,000 million euros, so at present and, if a premium is held close to 300 points, the bill to be paid by Spain to the market would have risen to 30,000 million euros.

Trichet sounded the alarm

Chancellor Angela Merkel stressed Germany's position: no adjustment plan, which must be approved by the Greek Parliament-not be released to 12,000 million euros, Greek coffers need to avoid falling into default this summer . On the other hand, without this step, members also activate the 100,000 billion bailout within the second.

The President of the European Central Bank (ECB), Jean Claude Trichet spoke openly of the possibility of a contagion effect of Greek debt to other countries, with no mention of Spain, but where all eyes are directed. "From a personal standpoint I would say that the alarms are red," said Trichet, the same day that the European parliament approved the appointment of Mario Draghi Italian as his successor. The taboo about the possibility of financial assistance to our country would require doubling the size of the bailout funds and financial stability of the European Union (EU) to place it almost 1.5 trillion euros.
Comentarios » Ir a formulario