Demands for international action to stop Côte d'Ivoire "massacre"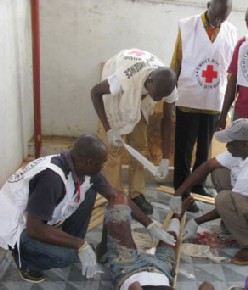 ICRC office in Guiglo, Côte d'Ivoire
© ICRC/Saoure/afrol News
UN has failed to foresee the massacres that followed the conflicts in Black Africa in contrast to his "diligence " in Libya.
10 April - Calls are getting louder for international action to intervene in the fighting in Côte d'Ivoire, where urban warfare and ethnic cleansing is leading to thousands of deaths and immense numbers of displaced.
Mass killings and extreme violence are right now unfolding in Abidjan, the main Ivorian city. Côte d'Ivoire's civil war between forces supporting President-elect Alassane Ouattara and those loyal to Laurent Gbagbo has deteriorated into major urban warfare in the commercial capital.

In other parts of the country, particularly in the western city of Duékoué, where large-scale massacres have already occurred, the death toll could reach thousands within days. Ex-President Gbagbo has now called for full military mobilisation to protect his palace and other key installations as a last-stand effort.

According to analysts from the Brussels-based think-tank International Crisis Group (ICG), "the situation demands an immediate ceasefire by both parties to avoid further massive civilian casualties, and Gbagbo's acceptance of Ouattara as President."

The ICG agrees with other analysts that Mr Gbagbo, who lost the presidential election in November, "bears primary responsibility for bringing the country, and the West African region, to the abyss by not accepting the results of the polls and choosing to fight instead."

At the same time, muslims forces loyal to President-elect Ouattara, who have rapidly taken ground across Côte d'Ivoire in recent days amidst credible reports of atrocities, "must accept that their military campaign has to end now," according to the same analysts.

The ICG further calls for deepened international action. In particular, the UN mission (ONUCI) "must deploy all its available formed police units (FPUs) within Abidjan, as well as military troops, and reinforce its presence in the west of the country, particularly in and around Duékoué, Guiglo, Blolequin, Toulepleu and Daloa."

"Troop contributing countries should also accelerate deployment of soldiers up to their maximum mandated capacity of 11,000," the ICG urged. There are only 9,000 UN peacekeepers on the ground now.

The Economic Community of West African States (ECOWAS) and the African Union were urged to "mobilise all international partners, including the EU and the US, to bolster ONUCI's efforts."

Meanwhile, Mr Ouattara, the Forces républicaines and its commanders, including Prime Minister Guillaume Soro and their regional sponsors, were asked to "take all measures to ensure respect for international humanitarian law."

"They should understand that international support for Mr Ouattara's election victory, and his legitimacy, will quickly evaporate if their military campaign becomes responsible for mass atrocity crimes," the ICG analysts warn the President-elect.

The situation in Côte d'Ivoire was described "as urgent as any facing the international community right now. The unthinkable is unfolding before our eyes, and in a region where the world has invested so much in peace and security in recent years. Action must be bold, effective and immediate," the ICG analysts urge.
Comentarios » Ir a formulario