Gaddafi orders storm of Benghazi in this night.
Gaddafi orders storm of Benghazi.
Muammar Gaddafi warned the rebel stronghold of Benghazi he would storm the city in the night showing no mercy, while the United Nations edged towards a resolution allowing air strikes on Libya to stop him.
"We will come zenga, zenga. House by house, room by room," he said in a radio address to the eastern city.
Thousands of residents of Benghazi gathered in a central square, waving anti-Gaddafi tricolour flags and chanting defiance of the man who has ruled the country for four decades.
"It's over. The issue has been decided," Gaddafi said, offering pardon to those who lay down their arms. "We are coming tonight...We will find you in your closets.
"We will have no mercy and no pity."
Ten nations ready to attack Ghaddafi regime.Germany says "NEIN".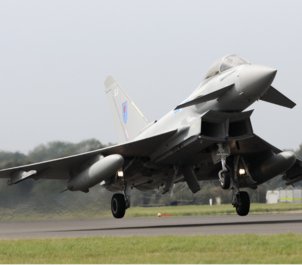 British air force "Typhoon" departing the Coningsby base
19 March - A "coalition of the willing" is rapidly forming to strike back at any military advances of the Ghaddafi regime against the rebels and Libyan civilians. Ten nations already are ready to attack.
An immediate attack on pro-Ghaddafi forces after this night's UN Security Council resolution had been carefully planned, with many Arab and Western nations putting military vessels and aircrafts to the disposition of the operations.

So far, the US, UK, France, Spain, Belgium, Denmark, Italy, Malta, Qatar and another unnamed Arab country are prepared to participate in a strike against Colonel Ghaddafi's troops. The unnamed country is widely believed to be the United Arab Emirates.

The "coalition of the willing" originally had planned to strike against Mr Ghaddafi's troops already this afternoon, Western military sources indicate. However, the Libyan regime's unexpected unilateral announcement of a ceasefire delayed the strike. Now, an attack probably will come at the first documented break of this ceasefire.

The presence of allied military forces close to Libya is already impressing, documenting that a massive attack could come within hours or even minutes after the order is given.

The US military has already placed two squadrons with a total of 40 F-16 combat aircrafts in Aviano, Italy, ready for attack. Off the Libyan coast, the Americans have the helicopter carrier 'USS Kearsage', three destroyers, an amphibian landing ship and a nuclear-powered submarine - all heavily armed with missiles.

According to US military sources, even more powerful arms are underway towards the Mediterranean. This includes the new F-22 stealth aircrafts "Raptor", drones and the aircraft carrier 'USS Enterprise'.

The French armed forces are prepared on their military bases along the Mediterranean coast and the island of Corsica. The aircraft carrier 'Charles de Gaulle', carrying 35 air fighters, is already stationed close to Libya.

The British military has two frigates close to Libya. In addition, a large number of combat helicopters,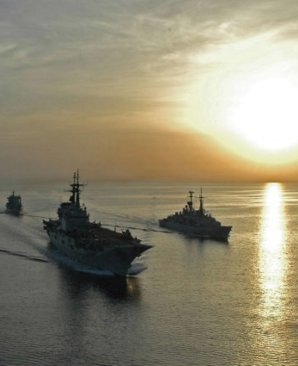 Italian warships approaching the Libyan coast
reconnaissance aircrafts, jets and bombers are ready for combat at a military base in Malta. Further military equipment, including Tornado and Typhoon fighter jets, is moved from the UK towards Malta, Italy and possibly Greece.

Spain has offered to send several combat aircrafts and marine vessels to assist in the operation. Further, Spanish military airports have been opened for the operation.

The government of Belgium today announced it would contribute with six F-16 combat aircrafts. Also Denmark announced it would send six F-16 fighters "to implement the no-fly zone." It is still unsure where the Belgian and Danish fighters will be stationed.

Italy and Malta, Libya's nearest European neighbours, so far have not officially committed military staff or equipment to an attack on Ghaddafi forces. However, both Mediterranean nations have opened their air bases and ports to the coalition, and air attacks on Libya will most likely take off from Malta and Italy.

The only Arab nation to officially announce its participation in the anti-Ghaddafi operation so far is Qatar. Another Arab nation - presumably the Emirates - is together with Qatar to play a vital role in monitoring the no-fly zone over Libya.

Further countries are indicating their willingness to assist in the military operations against the Ghaddafi regime. Greece and Cyprus may soon open their ports and military airports for operations against Libya. Norway and the Netherlands have indicated they may send combat aircrafts. Lithuania has offered a military transport plane. Sweden says it will offer help if receiving a NATO request.

Meanwhile, Libya's nearest neighbours are carefully avoiding active participation. Tunisia is not participating in the operation. Egypt also abstains, but is however providing the Benghazi-based rebels with arms and other supplies.
Germany have said "nein" to the attack for the risks and consequences.
Comentarios » Ir a formulario