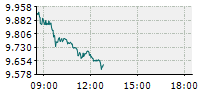 Most European Stocks Fall as China Cools Growth; Xstrata Slides
Jan. 14 (Bloomberg) -- Most European stocks retreated, led by a selloff in commodity producers, after China moved to cool its overheating economy.
Xstrata Plc and Anglo American Plc lost more than 1 percent after China, the world's biggest consumer of base metals, raised reserve requirements for its banks. ThyssenKrupp AG tumbled 3.2 percent after Chief Financial Officer Alan Hippe quit. ASML Holding NV climbed 6.4 percent as Intel Corp.'s sales forecast beat analysts' estimates.
The benchmark Stoxx Europe 600 Index fell 0.1 percent to 283.77 at the 4:30 p.m. close in London, as eight stocks declined for every seven that gained. The gauge has risen 1 percent this week amid speculation the European Union will step up efforts to stem the region's fiscal crisis. Even so, the International Monetary Fund's Naoyuki Shinohara said Europe has yet to allay investor "skepticism" about its debt.
"This is one step short of China raising interest rates again and it's designed to curb the excesses of their economy," said Manoj Ladwa, a senior trader at ETX Capital in London. "The market is still trying to determine which way to go, though weakness does seem to be setting in."
The People's Bank of China said it will increase reserve ratios for banks by 50 basis points. The announcement comes within three weeks of the central bank lifting benchmark interest rates to rein in liquidity.
German Inflation
Inflation in Germany, Europe's largest economy, accelerated to the fastest pace in more than two years in December, data from the Federal Statistics Office in Wiesbaden showed today. European Central Bank council member Axel Weber said the economic outlook in the euro area has improved markedly and inflation risks "could well move to the upside."
In the U.S., the Thomson Reuters/University of Michigan preliminary index of consumer sentiment for January unexpectedly declined. Separate reports showed retail sales, industrial production and consumer prices rose in December.
National benchmark indexes fell in 9 of 18 western European markets. The U.K.'s FTSE 100 slid 0.4 percent, while France's CAC 40 climbed 0.2 percent. Germany's DAX was little changed.
Xstrata, the world's fourth-largest copper producer, fell 1.2 percent to 1,495 pence and Anglo American lost 3.2 percent to 3,300 pence. BHP Billiton Ltd., the world's biggest mining company, fell 1.8 percent to 2,478 pence.
ThyssenKrupp, Tenaris
ThyssenKrupp slid 3.2 percent to 30.70 euros after Hippe quit Germany's largest steelmaker, three years before his contract to scheduled to end. The company said in a statement that he is pursuing a "new professional opportunity."
Novo Nordisk A/S lost 1.6 percent to 620 kroner after Deutsche Bank AG lowered its recommendation for the world's largest maker of insulin to "sell" from "hold." Analysts said the company's valuation is "too rich" following an 84 percent rally in the stock last year.
ASML, Europe's biggest maker of semiconductor equipment, rose 6.4 percent to 29.95 euros. Intel, the biggest maker of computer chips, forecast first-quarter revenue will range from .1 billion to .9 billion. That compares with the .7 billion average of analysts' projections compiled by Bloomberg.
ASM International NV advanced 5 percent to 29.25 euros, the highest price in more than eight years. Europe's second-largest maker of chip-production gear was raised to "outperform" from "neutral" by Exane BNP Paribas.
ARM Advances
ARM Holdings Plc rallied 5.3 percent to 530.5 pence as Compal Electronics, the world's second-largest maker of notebook computers, said it expects 90 percent of the 3.8 million tablet devices it ships this year to use chips from ARM and Google Inc.'s Android operating system.
New York Times reporter Andrew Ross Sorkin said on CNBC last week that Intel may be forced to look at acquisitions including ARM.
Spectris Plc jumped 7 percent to 1,380 pence for the largest increase in the Stoxx 600. The U.K.'s biggest maker of production-testing gear said sales were better than estimated in the final two months of the year. Full-year adjusted operating profit, excluding acquisition costs and other one-time items, rose to about 140 million pounds (2 million). That beat the average analyst estimate of 128 million pounds.
Abertis Infraestructuras SA, Spain's biggest toll-road operator, surged 2.9 percent to 14.37 euros after selling its 6.7 percent stake in Atlantia SpA, ending a failed effort to create the industry's dominant company. Atlantia climbed 5.1 percent to 16.61 euros.
--Editor: Andrew Rummer
Comentarios » Ir a formulario