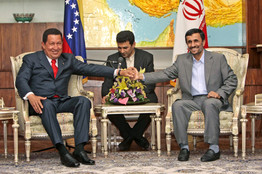 Crazy Horse :Chavez Creates Socialist Bourse, Promises High Yields
(Adds Chavez's comments in fourth paragraph.)
Nov. 14 (Bloomberg) -- Venezuelan President Hugo Chavez said he signed a law to create a "socialist" state-run Public Bond Market that will offer local investors high yields to stimulate saving.
The Public Bond Market, which will begin operations in December, will allow state-run companies to sell debt to finance operations and individuals to seek investment opportunities, Chavez said.
Chavez tightened his grip on the financial industry this year by closing more than a dozen banks and 40 brokerages that he said committed "fraud" and set artificial exchange rates. He said investors will have their investments guaranteed by the state. Caracas's private stock exchange has seen trading volumes plummet since 2007 after the nationalization of companies including Cemex SAB and Cia Anonima Nacional Telefonos de Venezuela, known as CANTV.
"The banking and brokerage crisis has allowed us to draft this law," Chavez said today on state television during his "Alo Presidente" program. "Don't spend all your year-end bonuses, invest in the bourse and the state will guarantee your money with good yields."
Yields Rise
The government's average dollar-bond yield rose 20 basis points, or 0.2 percentage points, to 13.23 percent on Nov. 12, according to JPMorgan indexes.
A draft of the bill that was approved in the National Assembly said that besides state companies, joint ventures, community councils and private companies will be authorized to sell debt to finance operations.
The Securities Regulator authorized state oil company Petroleos de Venezuela SA to sell billion of bonds due in 2017. The bonds were sold on Oct. 25 in the secondary market through the Public Bond Market, according to a statement dated Oct. 8 and published Nov. 10.
The law will be published tomorrow in the government's Official Gazette and the Finance Ministry and Securities Regulator will provide more information, Chavez said. The government has assigned a headquarters for the bourse, Chavez said, without providing the location.
"The public bond market has been born as a product of the terminal crisis of Venezuelan capitalism," he said from the Miraflores presidential palace. "Venezuelan capitalists are walking around at 5 a.m. like Dracula who hasn't drunk his blood."
--Editors: Paul Cox, Theo Mullen
Comentarios » Ir a formulario
Autor: Venezuela Libre
Venezuela hacia el desastre .Todas las políticas económicas del gobierno son erradas .

http://www.prensaescrita.com/adiario.php?codigo=VEN&pagina=http://www.eluniversal.com

http://noticiaaldia.com/2010/09/investigacion-de-ad-explica-11-anos-de-naufragio-economico-en-venezuela/
Fecha: 15/11/2010 16:57.
---
Autor: Mateo Mathaus
¿Quién está preparado para Armagedon?.

Posted on 16/11/2010 at 15:27:09 by Guardiola in http://www.boards2go.com/boards/board.cgi?&user=cien

Armagedón
... viene de Ar y Megido .La palabra armagedón deriva del monte Megido (Har
Megiddo en hebreo), el sitio donde ocurrió la célebre batalla de Megido
(en el siglo XV a. C.) y otras dos más en los años 609 a. C. y 1918
también conocida como el fin del mundo..Sobre Armagedon se sustenta el
Apocalipsis .Pero nosotros no creemos en profecías sino en la puritíta
realidad y mira por donde frente al "optimismo antropológico de nuestro
amado Fhürer ZetaParo que decía que lo de la deuda era agua pasada hay
gente con los piés en el suelo que tal vez exagere pero que no está nada
lejos de vaticinar los peligros que nos acechan .Y no es por incordiar
,!!seguro!!.

http://www.cotizalia.com/apuntes-enerconomia/crisis-consta-siete-fases-estamos-tercera-20101116-4386.html
Fecha: 16/11/2010 15:38.
---